Living in Sofia Bulgaria as a Digital Nomad
June 02nd 2017 10:06 am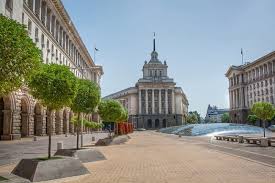 Are you a digital nomad and are you considering visiting Sofia, the capital of Bulgaria soon? There are a plenty of cheap Bulgarian flights that take you to Sofia from Ireland and the UK.
The city has recently emerged as a hub of digital nomads, or self-employed professionals with online businesses who work from around the world armed with a laptop and fast internet connection.
Sofia, the capital city of Bulgaria is increasingly becoming popular as a hub of bloggers and digital nomads. There are many advantages to moving to Sofia, even if that's only for a few months.
You don't have to worry about getting a Visa and formalities if you are a citizen of the European Union. Since Bulgaria is a member of the EU, people from other EU nations don't face any restrictions when travelling to Sofia.
What makes Sofia so special is that it is quite possibly the cheapest capital city in Europe. It is really very cheap. It starts with your flight to Sofia; you will be amazed at how cheap the flight tickets are. You can look for the best price for flights to Bulgaria here on this website.
It is a great place to spend 6 months a year as a digital nomad. The cost of living here is the cheapest in Europe. So you can save as much as possible even as you plan your next trip as a digital nomad.
Here's a look at the how much it would cost you to live and work in Sofia. Remember - 1 Euro equals 1.95 Bulgarian Lev.
Coffee costs 0.50-1 leva on the go, or about 2 to 3 leva in a cafe. Ordering a pizza would cost you about 1.80-2.50 leva or about £1-2.
Eating out at a standard restaurant costs 10 leva or £4. Staying at a budget hotel costs 18 leva or about £6.55 a night. Beer in Sofia costs 1.5-3 leva or about £1.30.
Public transport in Sofia is quite cheap. You can go anywhere on the Metro of 1 leva per journey or 36p. You can take a taxi within the city centre for between 10-15 leva or £4-£6. You can hire a bike for 3 hours a day for 10-15 leva or £5.
As you can see, it is pretty cheap to live in Sofia. You can save more by shopping at the local supermarket for vegetables and grocery and preparing your own meals instead of eating out. There are supermarket chains such as Carrefour here in Sofia.
You can go on a free walking tour around the city and explore to your heart's content. There are many organisations that hold free walking tours here. Most of them meet at the Palace grounds in central Sofia at around 11 PM every day. The guides don't ask you for money, but it would be a lovely gesture to give them a nice tip.
You can relax at the quiet and tranquil parks here such as the Borissova Gradina and Yuzhen Park. There is a lot of fun to be had in Sofia, but if you really want to make your stay a memorable one then you should use the city as your base to explore the rest of Bulgaria and not remain confined to Sofia itself.